Bio-Helix has been focusing on providing the best bio-reagents for life science researchers all over the world since 2007. Our products, to name a few, include DNA markers, protein markers, pre-cast protein gel, nucleic acid purification, PCR reagents and so on. Working together with scientists in the lab around the world and continuing efforts of quality improvement, we begin to gain trusts and appraises from customers. The brand, spreading in more than forty countries, has become a trustworthy and welcome brand of reagents in laboratories of life science.
With the expansion of product lines as well as customers, we discover a greater need of good quality supply of bio-reagents from medical circle. Mostly, these needs are for diagnostic products. The demand of good quality bio-reagents for diagnostic devices opens a whole new possibility of innovation and motivation for Bio-Helix.
We have a vision that one day our life span can be elongated; life quality can be improved by early detection and subsequent proper treatment of all diseases. Ancient Chinese believed that a good doctor treats disease before illness, instead of after its onset. In Bio-Helix, a new brand, LifeDirex, is created to fulfill this vision. LifeDirex will be focusing on supplying the best and most innovative reagents for diagnostic tools to promote earliest detection of diseases as possible.
Our mission is to provide the best quality products and to develop novel technologies that assist researchers to find solutions in quest of scientific achievements. Furthermore, we decide now is the best time to enter the market of in vitro diagnostic device (IVDD). It is our goal to become the best solution provider for both research laboratory and IVDD.
Driven by desires to improve life quality and achieve scientific excellence, we operate with the highest standards of integrity. We also extend the spirit to our services and global value to our customers all around the world. A diverse workforce and network of collaboration form a great mix of company culture. Bio-Helix is not only a company of equal opportunity but also works hard to provide a friendly and growing environment.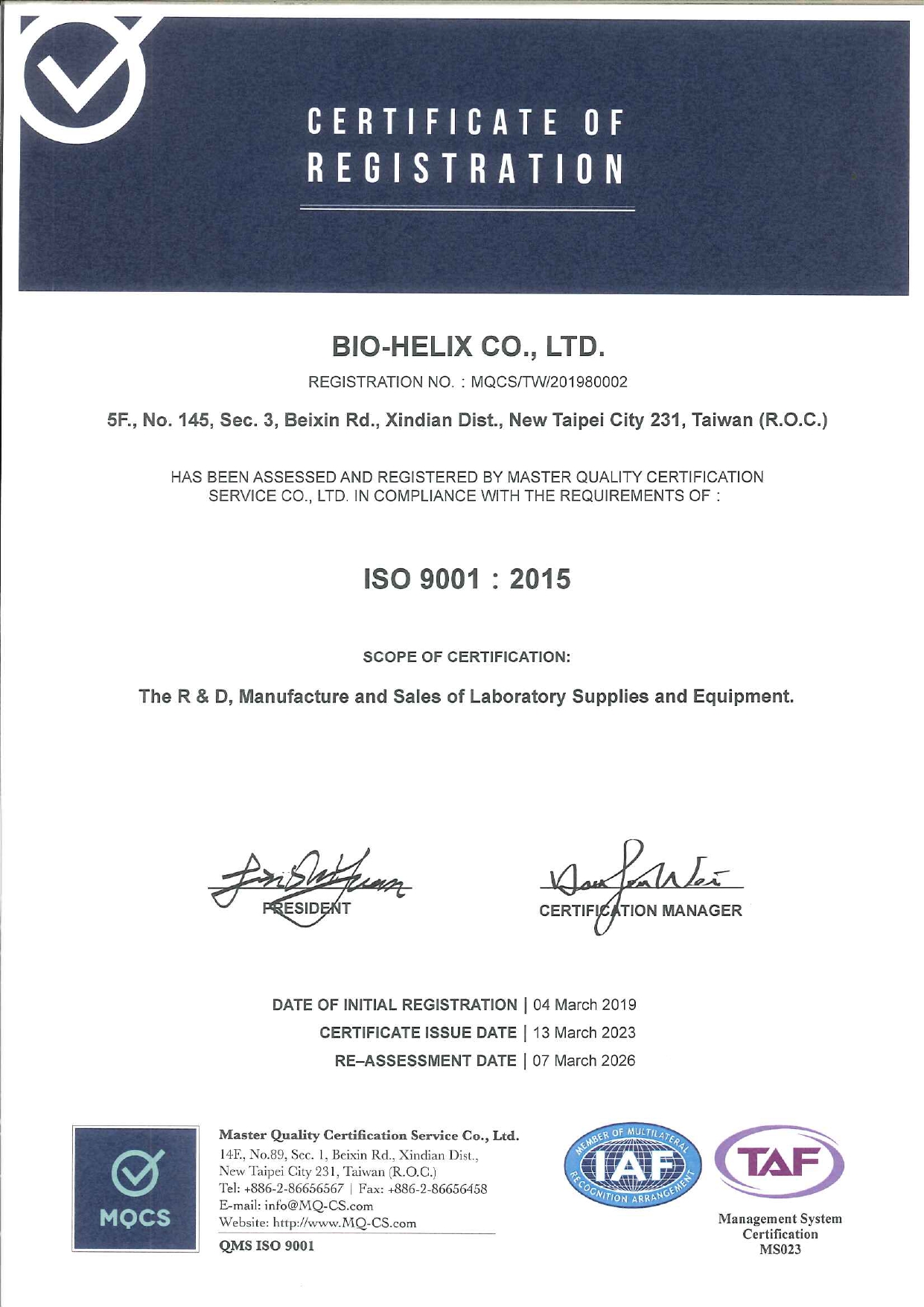 Who we are
We are focused on the life science of greatest need since 2007, on the ways in which we can do the most good.
Our values
Driven by a desire to improve life, achieve scientific excellence, operate with the highest standards of integrity, and expand access to our products and employ a diverse workforce that values collaboration.
Our vision
From developing new bio-technologies that assist researchers and doctors fighting with microbe, we're committed to improving health and well-being around the world.
Our mission
Doing the right thing is the foundation of us—from the products we make to the policies that guide the way we do business.
Our team
Progress happens when smart, dedicated people translate good intentions into concrete realities.
What we do
To improve lives around the world, we need to see a problem, find a solution, and deliver impact.
How we work
To make a difference in the lives of people globally through our innovative research products and medical products. We aspire to be the best Bio-Company in the world and are dedicated to providing leading innovations and solutions for tomorrow.
Where we work
Whatever the conditions of people's lives, wherever they live, however they live, we all share the same dreams.
Quality Control
Every product goes through strict quality control procedures according to our ISO9001:2008-complied management systems in order to guarantee superior and consistent performance of our products.
Distribution
BIO-HELIX has a growing worldwide network of dedicated distributors. Our distributors share our high standards in service and technical support.
Environment- and Transportation-Friendly Design
Ambient temperature stability not only eliminates the degradation concern during transportation but also reduces shipping and disposal costs of expensive insulation packagings, making the product friendly to the environment and user's budget.
Logistics
All BIO-HELIX products are shipped at the ambient temperature or with ONLY ice packs– a very environment-friendly approach when compared to shipping on dry ice. Shipments are sent out within three to five business days, using the courier services most suitable for the client.

A great doctor treats disease before illness; a good doctor treats disease at emergence; and a mediocre doctor treats disease at its onset.
Bio-Helix has been dedicated to developing bio-reagents for laboratory research in the past decade. Bio-reagent plays a critical role in life science research as well as in diagnosis development. We decide to extend our efforts into IVDD (in vitrodiagnostic device) market as it is best to intervene disease progressing before its outbreak. With our knowledge and innovative technology, we want to help patients around the world for the early detection of illness in order to receive proper treatment and maintain better life quality. Disease may never be eradicated. However, early discovery leads to early treatment and thus a better chance to cure.
It is therefore our aim to develop an array of diagnostic products to be used at both bedside and bench side. Whether it is a pathological, complex or inheritance disease, Bio-Helix will bring products beneficial to the life and health circles.